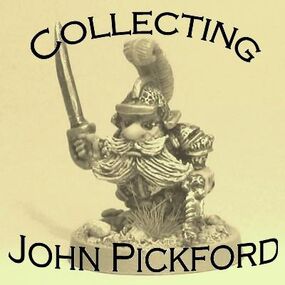 Welcome to the Collecting John Pickford Wiki
Okay, I confess to it. My name is Clam and I'm a John Pickford-o-holic. Can't get enough - and John has really become my favourite fantasy miniature sculptor of all time.
Introduction
So in here, I'll try to document his sculpting career. I will try getting pictures of as many of his commercial and private made miniatures as I possible can - so expect seeing anything from greens to painted samples, but I will make quite an effort getting naked metal miniatures for you.
Most of my own painted Pickford's can be found on my Clamshells and Sea Horses blog or my Facebook-page, so feel free to stop by and have a look - but don't expect to find award winning paint jobs in there, though.
Index - Collecting Guide
John "Poshgoblin" Pickford has created lots of miniatures for different companies/persons. Use the top navigation drop down menu to find a particular range or use the index down below to browse through them:
Manufacturers
Private commissions
Community miniatures
Collections, conceptual work and competition entries
Painting galleries

If anyone has anything to add or a comment or if I have made any errors, mistakes or got something wrong - don't hesitate contacting me, please. You can contact me through the above mentioned Clamshell-blog or find me on Twitter or Facebook
And if you have any Pickford miniatures in your possessions that's missing in here. Rather sure I'll be interested as well