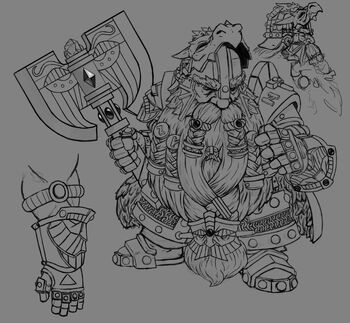 Bugman's Brewery Dwarf King
For the "War of the Beards" (Grudge Match 2012 arranged by Bugman's Brewery (Internet Community Forum)) - taking place on February 13th-14th at Warhammer World in Nottingham, UK - the community forum has decided on doing a commemorative miniature for the event.
The miniatures is going to represent a Dwarf King and is based on the awesome concept done by forum member Zachariah Bauer (aka "Baruke Splintersteel") - helped out by lot of inputs from forum members.
The community has now commissioned John doing the Dwarf King. John will be working on the miniature Autumn 2011.
You can follow the project at the Bugman's Brewery Forum - here: http://www.bugmansbrewery.com/topic/36145-dwarf-high-king-the-design/
And you'll find more of Zachariah Bauer's works here: http://www.zbauer.com/
Work in process
Bugman's dwarf King